A wide seaport monitoring network has been realized in the framework of the European Projects "Wind and Ports" and "Wind, Ports, and Sea" (www.ventoeporti.net).
Funded by the European Cross-border Program "Italy – France Maritime 2007-2013" (www.maritimeit-fr.net), which involved the Department of Civil, Chemical, and Environmental Engineering (DICCA) of the University of Genoa as the scientific actuator, and the Port Authorities of the main commercial ports in the Liguria and Tyrrhenian Sea, namely Genoa, La Spezia, Livorno, Savona (Italy), Bastia and L'Ile Rousse (France).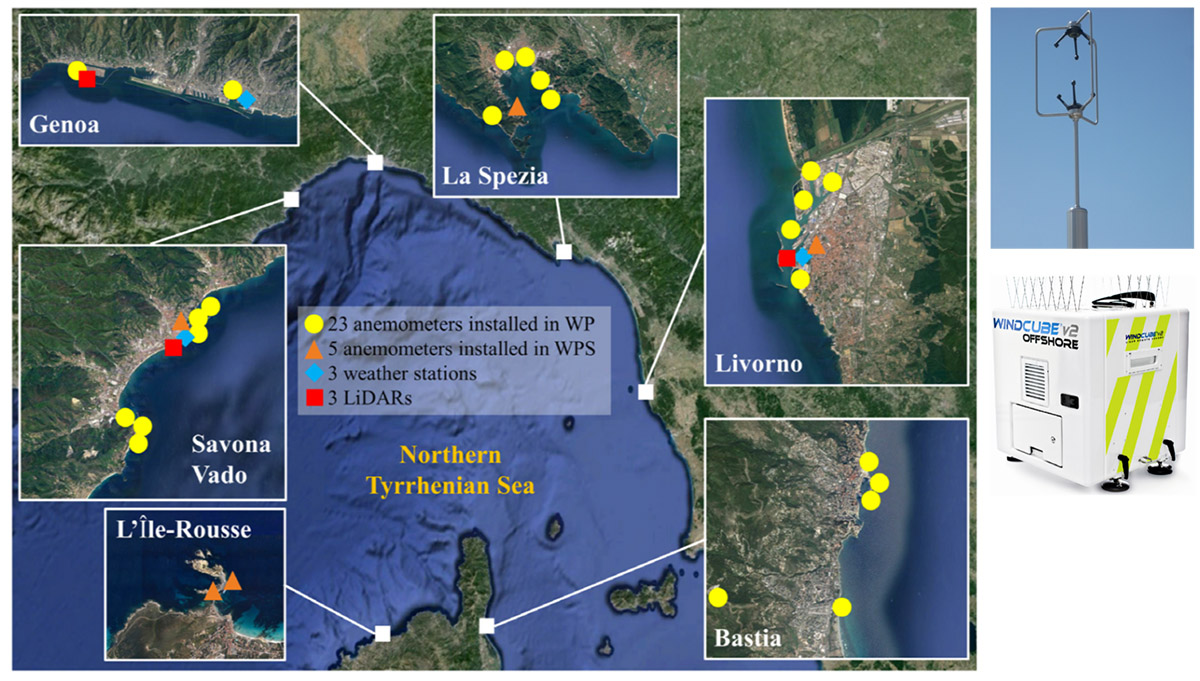 Each port area is now equipped by high-technology instruments to measure wind and other environmental parameters.
The whole network consists of more than 30 ultrasonic anemometers, 3 LiDAR vertical wind profilers, 6 PTH sensors. Bi- and tri-axial ultrasonic anemometers have a sampling frequency of 10 Hz in order to measure highly transient events such as thunderstorms as well as mean wind fields and turbulence.
LiDARs measure vertical wind profiles up to 250 m above the ground with a sampling frequency of 1 Hz and are expected to greatly help detecting and understanding the vertical structure and evolution of thunderstorm outflows.
Since 2018, this state-of-the-art scanning LiDAR has been sounding the atmosphere in the western part of the Port of Genoa searching for downburst outflows, gust fronts and waterspouts produced by thunderstorm clouds approaching from the sea. Its laser beam continuously scans the horizon until 10 km off the coast, approximately from the east to the west at 4 elevations, ranging from 2.5° to 10° zenithal angles.
This instrument is placed side by side to the LiDAR vertical profiler, in a geometrical configuration which is expected to allow a consistent three-dimensional reconstruction of the thunderstorm outflows reaching this part of the Ligurian Sea.